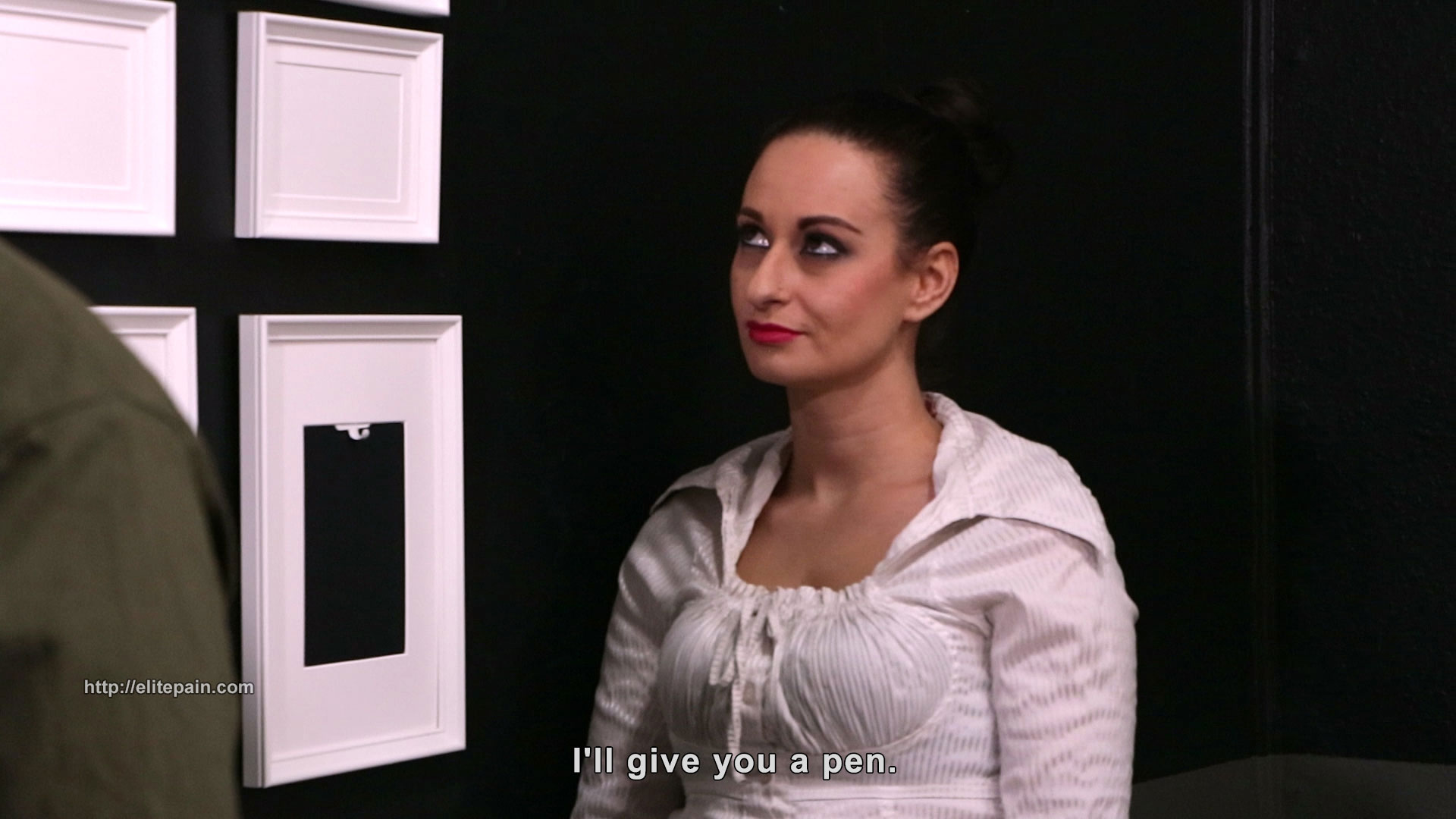 A high pain tolerance is needed at Cards of Pain but a submissive needs a tough mental attitude as well. Taking her turn at this evil game was Jasmine. She said she worked in catering and found EP while surfing the internet. Jasmine may have served many meals at her day job but today she may find the dish Lady Tatjana and Lady Amanda were about to serve her difficult to swallow. Adding spice to our banquet today was the domina's worst nightmare; the "Switch" card.
Jasmine had a lucky day at picking cards. She chose pussy for the first course. Although she wrote "10" in the box, the lucky card was "Split". The sub was allowed to take 5 strokes from this round and add them to another body part. With only five strokes to serve in the first round, the dominas played "rock, paper, scissors" to decide the first torturer.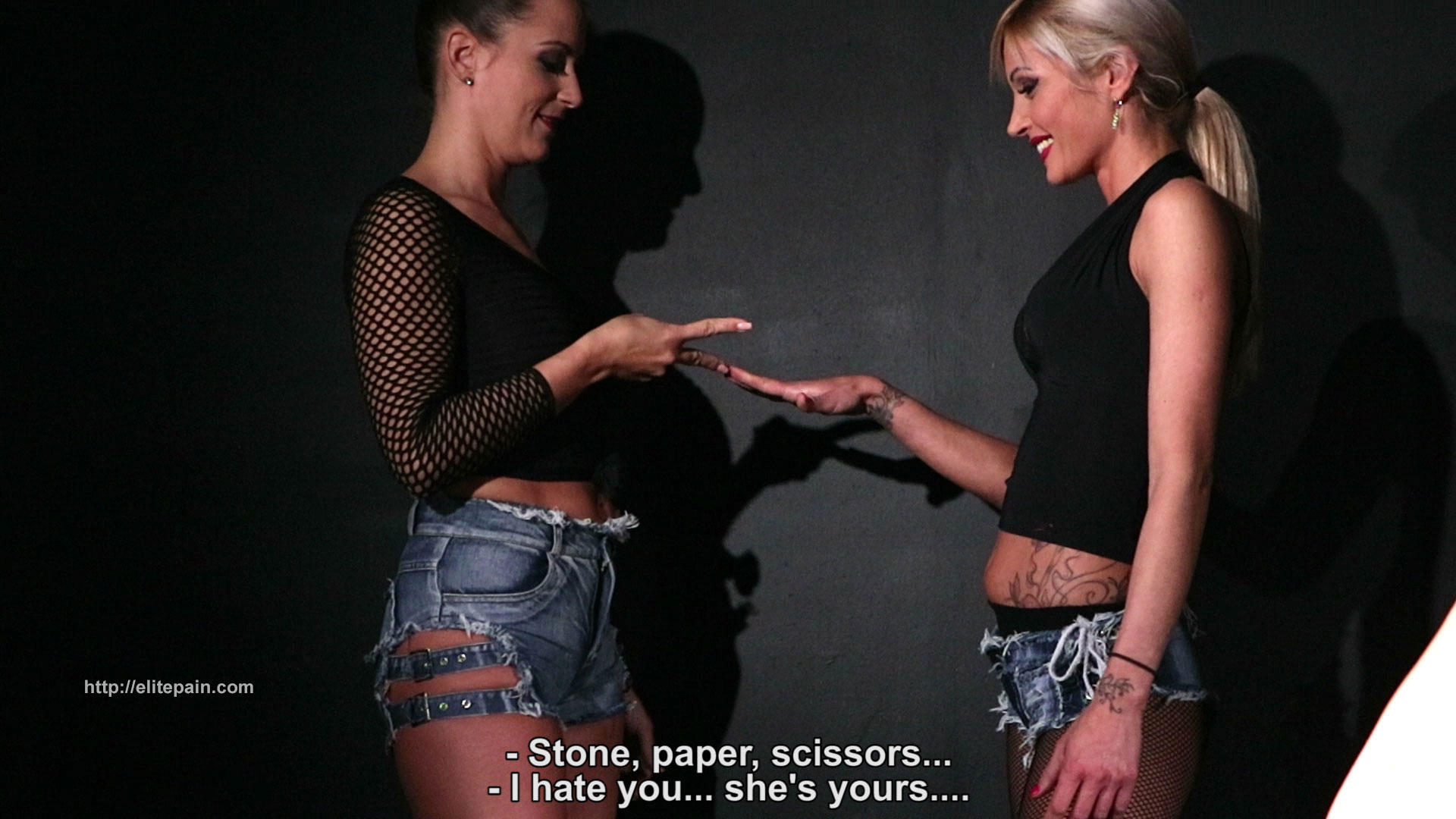 The domina's playful approach to "rock, paper, scissors" irritated a nervous Jasmine and she made a rude comment to the dominas. Amanda was the winner and took the strap for five strokes to Jasmine's pussy. With every crushing blow to Jasmine's pussy, she responded with a high pitched squeal as her butt bounced high off the platform. She seemed to have barely survived the first round. Amanda and Tatjana garnished this course with verbal barbs and Jasmine showed she was emotionally vulnerable to the domina's taunting.
The "Safe" card hung under the picture of the butt and Jasmine's body was saved 40 potentially withering strokes.
Jasmine's breasts were the third course. The "2x All" doubled the number of strokes to 20 from the 10 she wrote in the box. The cards of pain often gives and takes away in the same game.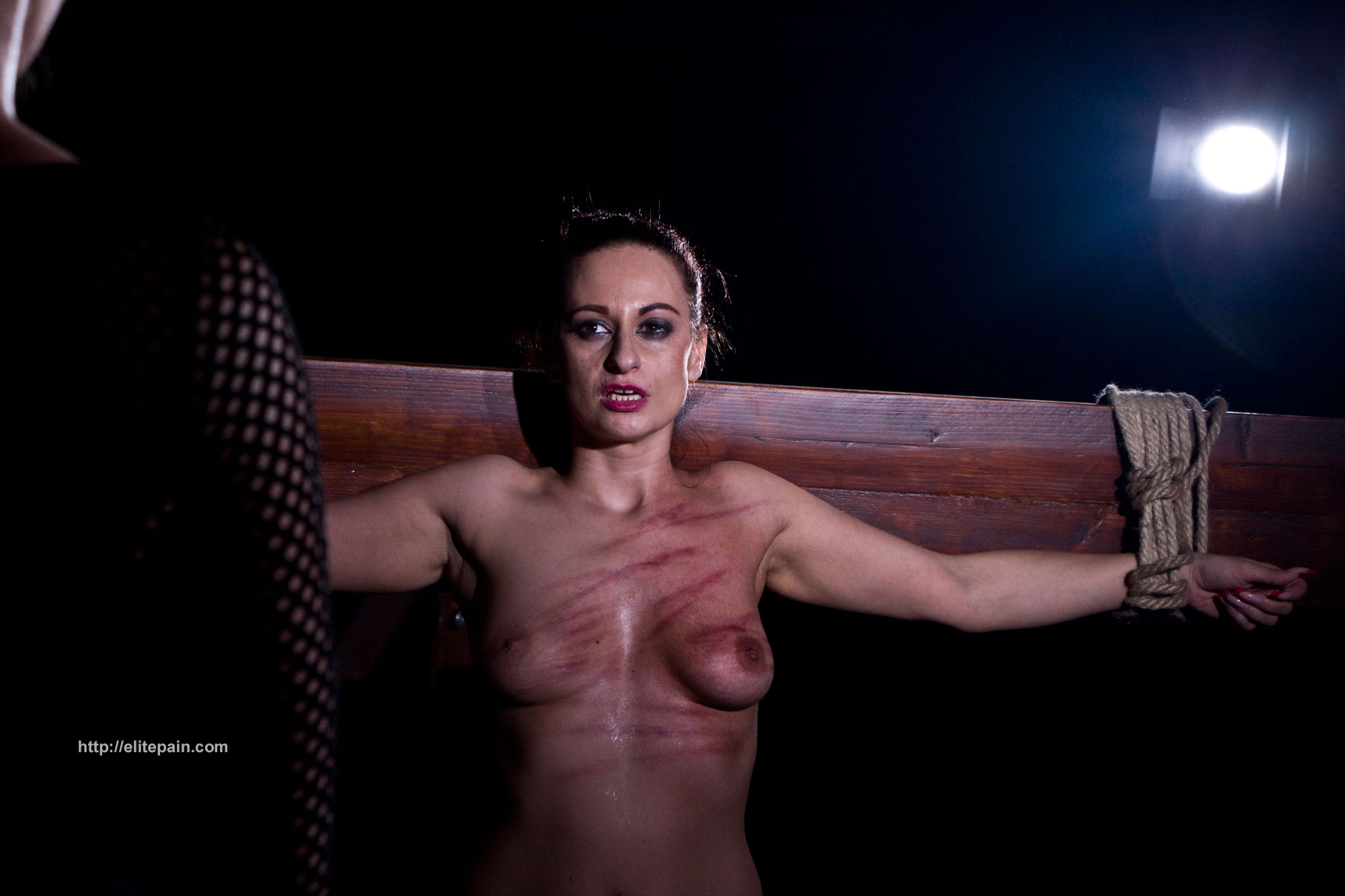 In this round, Jasmine often shot angry looks to the dominas. Tatjana said, "God how angry you look. I am gonna be scared!" Jasmine's cries brought a bright smile to Tatjana's face. Jasmine survives not only 20 strokes but continued mocking from Amanda. At stroke 18 Amanda commented on how hard Jasmine cried. "This cannot hurt that much." The feisty sub sneered back, "Then come and try it yourself"
Though tears still glistened off her face, Jasmine looked relieved in front of the cards of pain ready for the next item on the menu. When the "Switch" card was revealed under "Back", she took no time choosing Amanda.
Amanda resisted all she could in a dramatic scene. She cried and protested. The host mixed harsh consequences with gentle cajoling and ultimately Amanda provided a feast.
She appeared as a goddess. Her beautifully shaped arms, shoulders, and breasts looked worthy of worship. She stood arms outward and up from her torso as though acknowledging her devoted followers.
Jasmine was intimidated by a harsh threat from Amanda and would not go through with the whipping. Accord to the rules of the game if she doesn't attempt to whip Amanda, she must accept the punishment also. As quickly as she left the scene, a reluctant Tatjana appeared from the sidelines to take her place.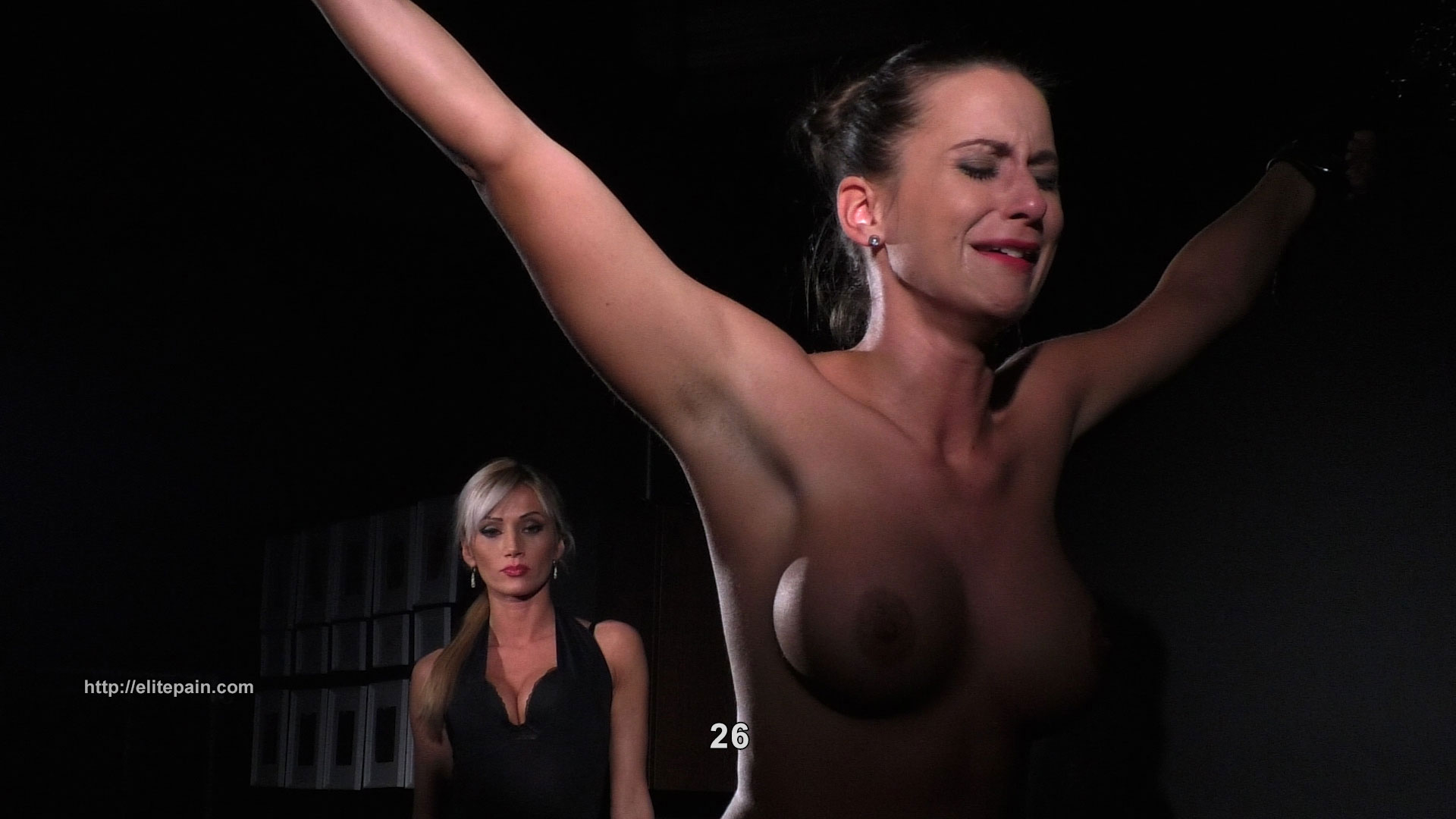 Amanda held out as long as she could, but her brave façade began to crumble at stroke 6. Her first whimper was audible at stroke 7 and her first scream was at stroke 8. Without the mental preparation for a whipping, Amanda was emotionally susceptible. At stroke 11, she told Tatjana, "You hit fucking hard". As if speaking for all dominas Tatjana replied, "Amanda, compose yourself. A domina may not whine like this."
Amanda made a counting error at stroke 26 and took 2 extra before she got it correct. When the strokes numbered in the 30s Tatjana's sadistic nature emerged and she managed to smile. Perhaps she was happy that though petite in stature, her whip strokes were strong enough to drive the athletic and powerfully built Amanda off her feet to swing from the chains that bound her.
Pedro, who can be a genius even when he is not trying, accidentally left a camera rolling and captured a touching moment of Tatjana trying consoling Amanda when it was all over. Together they vowed to crush Jasmine.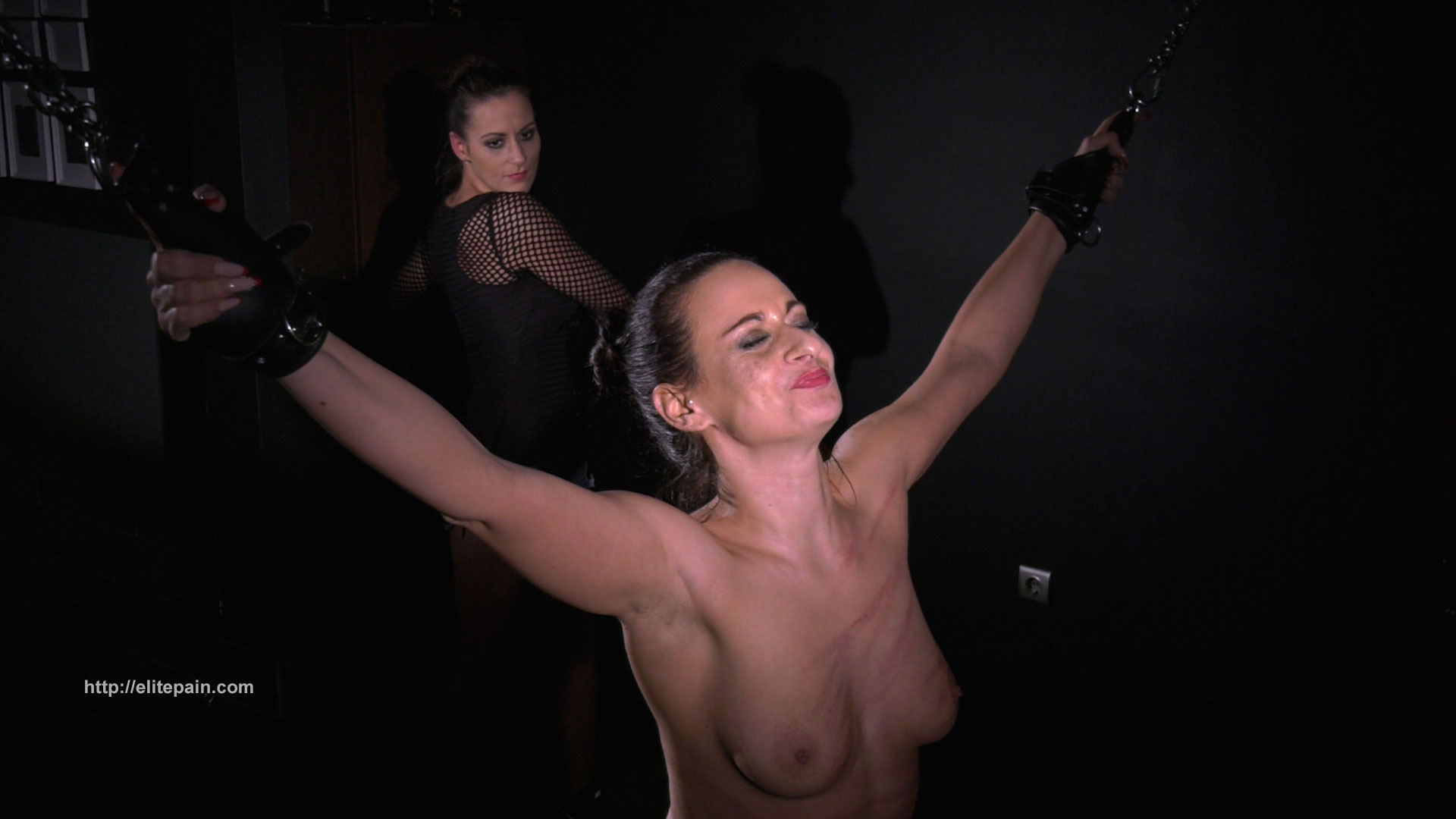 The smaller, easier to control whip for a sub to use went back on to the rack and the big whip came out. Amanda's beautiful eyes still reflected her weeping moments earlier as she swung the whip over her head then down across Jasmine's back for the first of 40 strokes. Jasmine was shocked by the impact. Each stroke started over the domina's head and finished with a full shoulder turn follow-through for maximum whip velocity. "Next time think twice who you choose".
When the dominas switched places Amanda encouraged Tatjana to go full force. "I want to see her suffer". After stroke 12, the irony of avenging Amanda's whipping struck Tatjana. The domina said with an impish smile, "Well I don't mind that you did not choose me." She then looked at Amanda who responded with an eye-roll acknowledging the humor in the situation.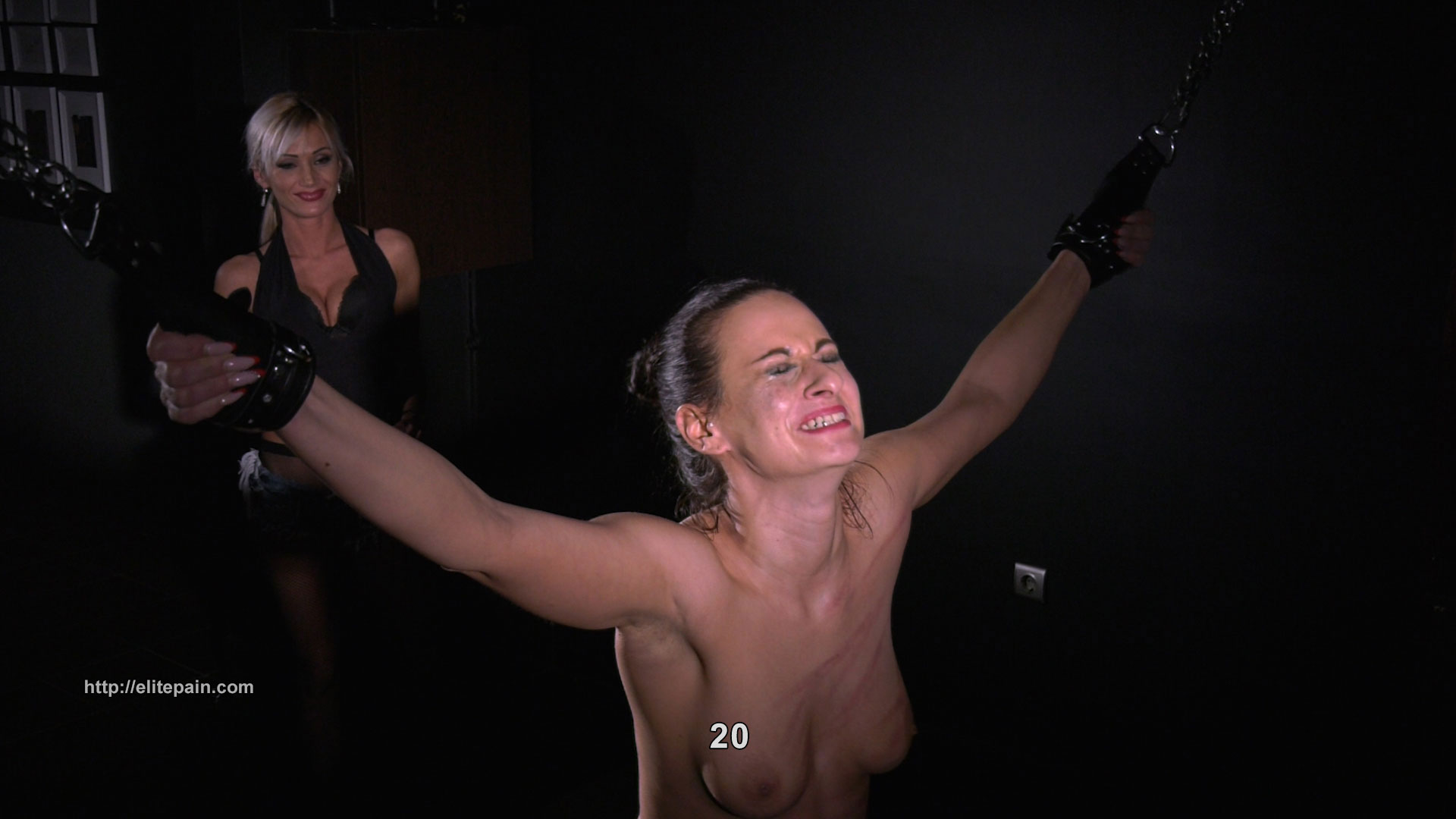 Jasmine cried hard this round as this whipping was far more intense than her previous rounds but she survived it. All the while as Tatjana whipped Jasmine, Amanda watches every tear roll down her face with an expression of savage satisfaction. Additional teasing from the domina's left Jasmine with a few emotional wounds in addition to the physical ones.
The look on Jasmine's face was now of exhaustion as she stood before the cards of pain. One round of 50 strokes to the soles or back of thighs stood between her and the prize. The "Full body" card changed the game.
It will be very difficult to repeat the lightning strikes of COP 6. Jasmine was a good sub but not outstanding. Amanda's whipping and the drama surrounding it make this a must-have movie.
B+
Buy it here:
http://elitepain.com/movie.php?from=pac ... 1215&hd=on