They are beauties as different as day and night. Lyen Parker, a tall, swarthy Mediterranean goddess whose brilliant eyes could capture your soul. Zazie Skymm, a petite, blonde fairy princess who appears from a cloud on gossamer wings to bring you eternal happiness. In common, they are iron women each with multiple successes in ElitePain's wicked games.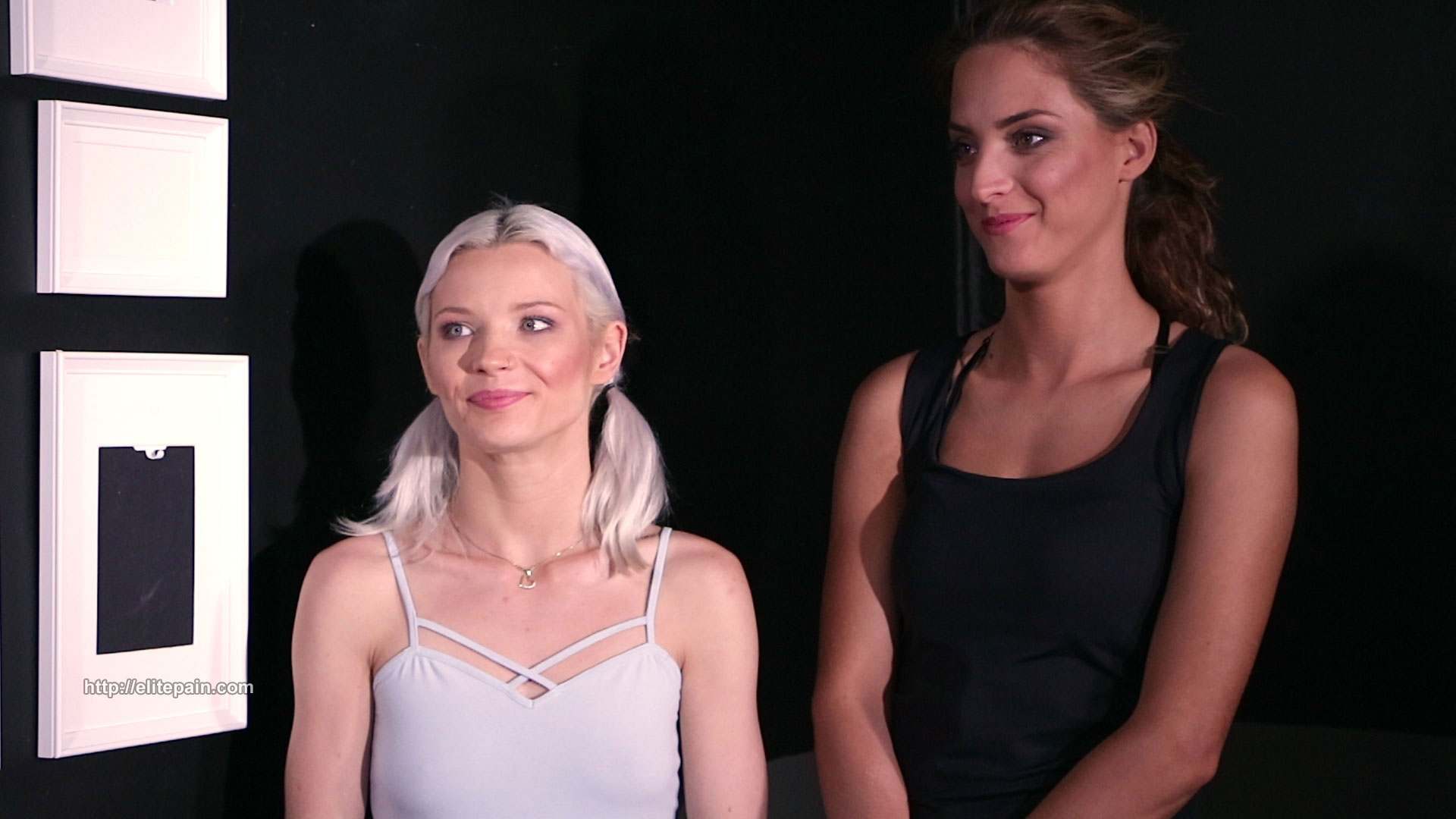 The dark force is Mistress Tatjana. Weeks earlier, Tatjana dealt Lyen Parker her only loss. Lyen's defiance provoked the Mistress to mete out a savage whipping. Zazie did not know Mistress Tatjana before today but survived the full fury of Lady Amanda's revenge following a "Switch" round in WOP29. Lyen and Zazie will rely on each other for support in "COP Duo". This film is double the subs, double the strokes, and double the fun. The players would take two body parts each and share the last.
Zazie drew a nervous breathe and tried to maintain her smile when told by the host that MistressTatjana was "far worse" than Lady Ariel during the opening chat. Lyen's expression throughout was stoic and determined with the memory of COP3 still fresh in her mind.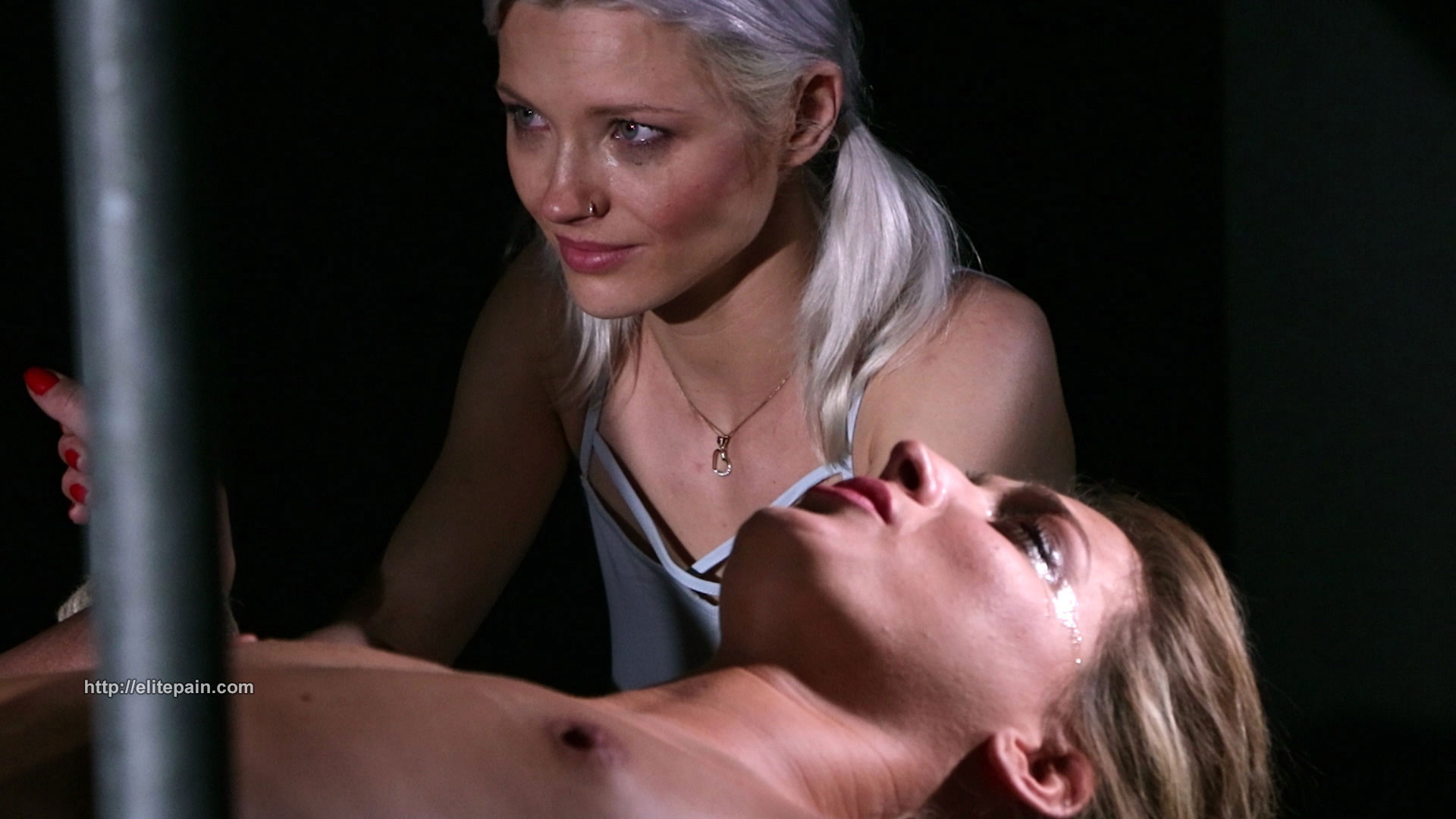 The subs decided Lyen would go first and the body part was Pussy. Although having chosen the minimum ten strokes for pussy, the gods de Sade struck again and added five with the lucky card. With Lyen tied to the platform, Zazie sitting beside her stared wide-eyed as Mistress Tatjana approached. It did not take the Mistress long after beginning the physical torture to start with the verbal intimidation. After the fourth stroke, she said to Lyen, "You are gonna give up, I know. I guarantee you won't make it." Tatjana later bent at the waist to address a seated Zazie like a child. "Are you crying? Your next. Don't worry".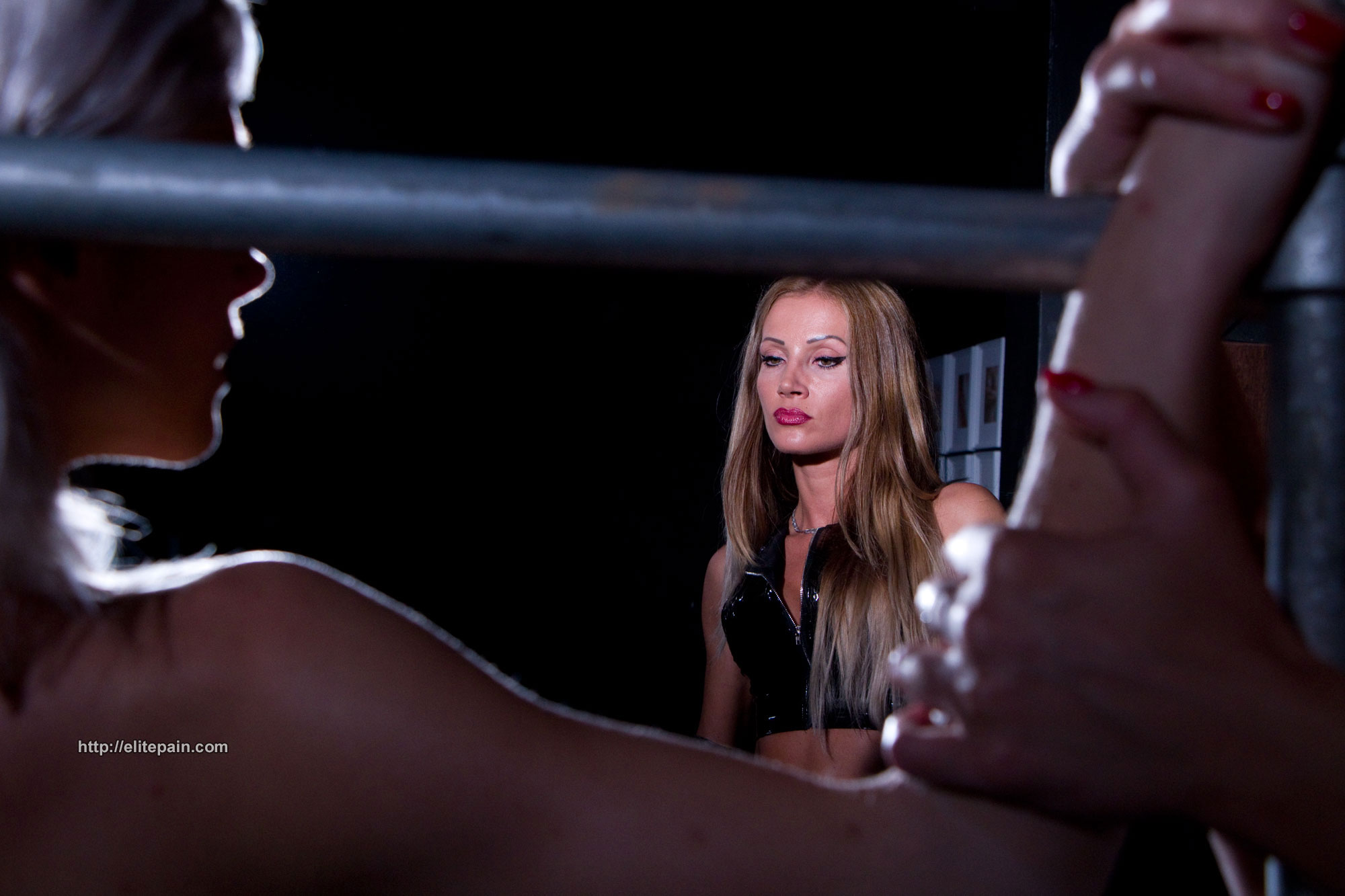 Zazie's Breast round was next. The lucky card was "Hold Pos". Mistress Tatjana introduced herself to Zazie with two strokes across the belly. Was she trying to provoke a complaint or anger from Zazie for not striking her breasts? Zazie learned from Lyen it was best to keep her cool. Tatjana must have used the biggest and baddest whip in Hungary as Zazie screams filled the room. With Lyen anchoring Zazie's right hand to the right post and Zazie squeezing the other post for dear life with her left, she held her position and escaped the round with only 15 strokes.
Lyen chose the Soles for the next round. "Dom's Choice" was the card. Mistress Tatjana strode slowly on to the set. Her steps echoed menacingly as she approached. She taunted Lyen with cold-blooded conversation. She pointed at her and said to the host, "I want her to suffer." It was fifteen to the pussy. No doubt in the time since Tatjana beat Lyen's pussy in the first round, it continued to swell and discolor. Now with a hypersensitive labia and clitoris, Lyen was tied to the same platform in the same position for the round of her life.
"Tatjana the Terrible" was a lumberjack splitting logs mercilessly hacking away at Lyen's labia and clitoris as if trying to chop them off to keep them as souvenirs. Lyen's body leaped from the platform as lightning bolts of pain jolted her body with every stroke. Veins bulged from Lyen's neck from the intensity of every scream. Each blow from Mistress Tatjana was sniper accurate and landed squarely on its target. This is easily the most any sub has suffered without giving up or passing out in any Elite Pain film. Lyen survives, by her own admission, only with Zazie's support.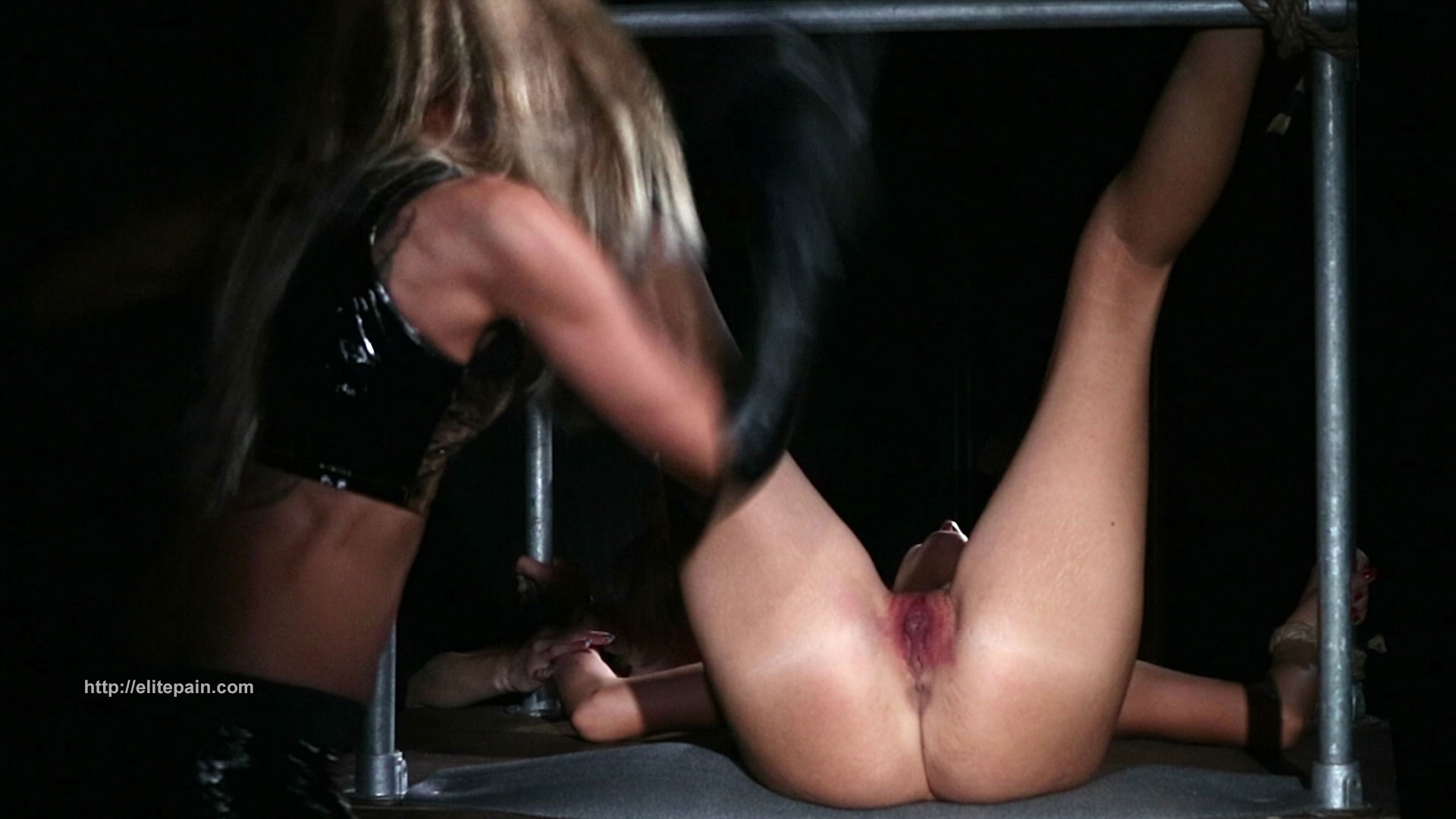 Zazie's butt round followed. Forty was written on the board. She caught a break when the lucky card halved the number of strokes she had to suffer. Mistress Tatjana had Zazie tied on all fours but with her knees spread as far as her petite frame would allow. The Mistress tried to bait Zazie into an angry exchange of words but Zazie was steady. Tatjana would often sternly stare to her target then after the stroke, smile to the heavens in self-satisfaction. Zazie survived the onslaught. True survival however is not until the last stroke is counted, loudly and clearly, in the final round.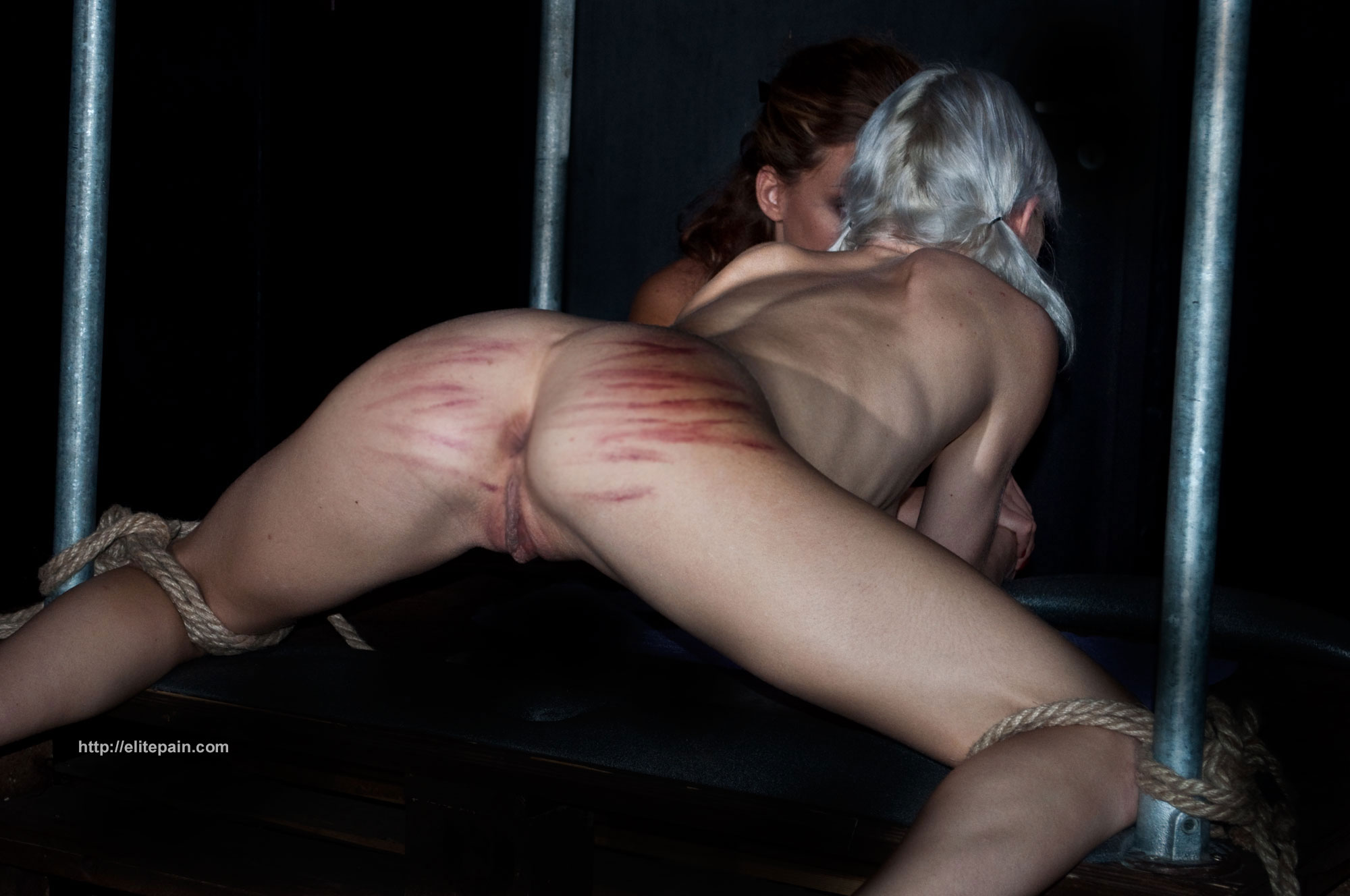 It would be the final round from hell. 120 strokes to the back, split in whichever way the subs chose. The lucky card was minus ten. Still, 110 strokes were Mount Everest when facing "Tatjana the Terrible".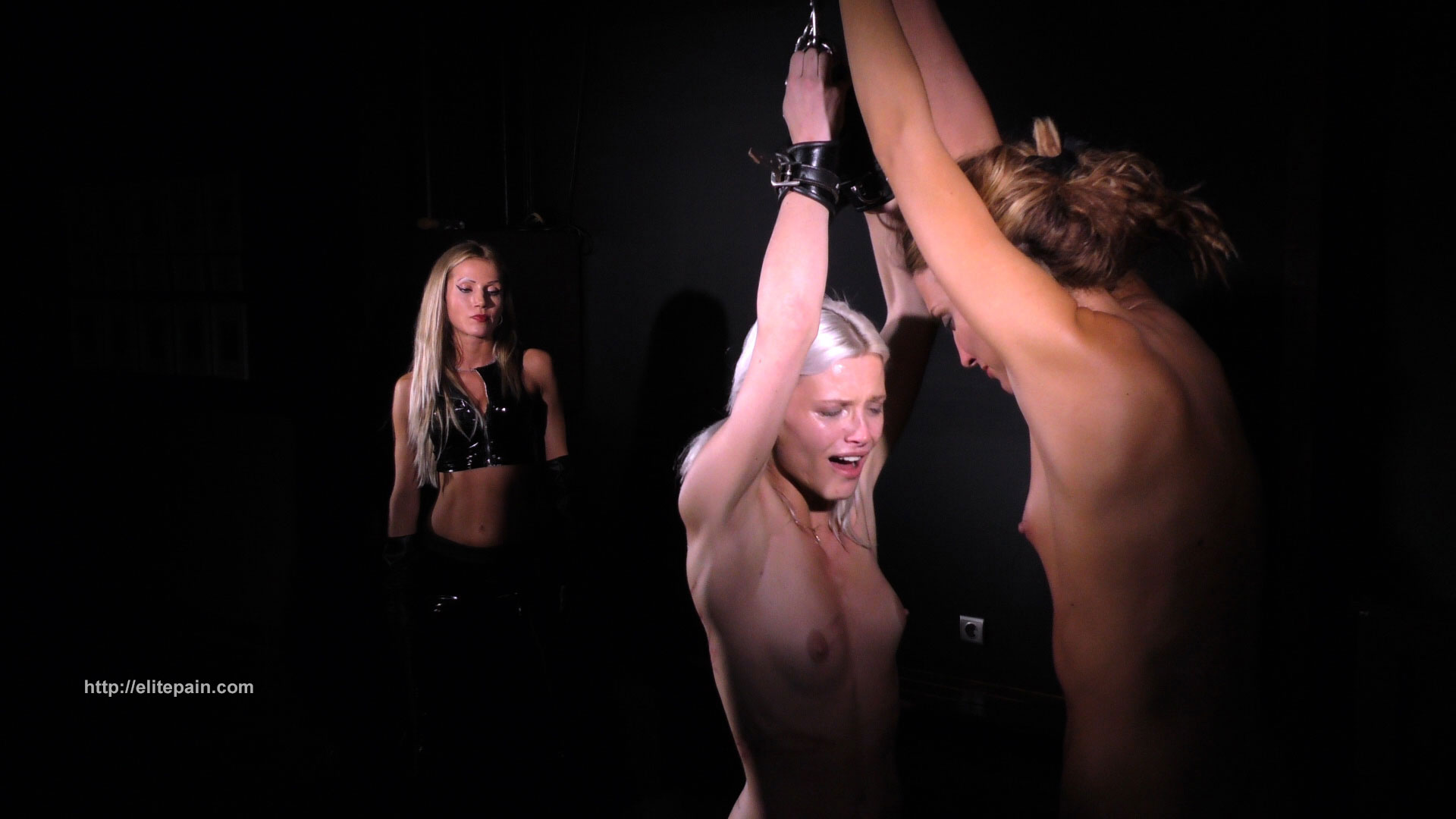 Lyen and Zazie were tied facing each other, arms-over-head. Zazie started the round with her back to Tatjana. Mistress Tatjana's every stroke shook Zazie to her core. She experienced Lady Amanda and Lady Ariel but MistressTatjana was on another level. When her senses returned after the ninth stroke ripped at her flesh, she needed a break and it was Lyen's turn. Lyen fell to Tatjana weeks earlier. Have two severe pussy rounds sapped too much of her strength? Would Zazie be able to take her fair share of strokes after needing a break after just nine?
Pedro is on a streak of releasing must-see films and this one continues the streak! Mistress Tatjana dispenses mental pressure emotional and physical pain with elan. Both subs are resilient but are they up to the task?
Grade
A
Available here:
http://www.elitepain.com/movie.php?id=1192&hd=on