Navyrotor wrote:There's one good, brief female interrogation scene in the low budget sci-fi film from 1999,

Last Stand.

Filmed in the Czech Republic (home of the 2nd most beautiful women in the world, after Canada), it stars a hot, redhead spy Kate Rodger, who is captured together with her male accomplice. Sadly, it's a huge wasted opportunity, as the two of them are chained back-to-back, AOH, with water dripping down on them. Only the guy shows any skin, stripped to the waist, as he is electro-tortured by the lovely Katerina Brozova, in a semi-Nazi style outfit. Still, Kate Rodger is delightful even fully clothed and wet, and it's a good situation. At one point the guy tells Brozova to go to Hell; to which she responds,

"You are already there, my friend."

God, this one would have been awesome if Kate had been stripped and lit up like he was. The scene is at about the 1 hour and 1 minute mark.

There are some other hot sex scenes, mainly because of the outfits and sultry looks of both Rodger and Brozova.

Here's the link to the full film on Tubi ~

https://tubitv.com/movies/535058/last-stand

.
FYI: Last Stand was "cooked" in the same "kitchen" and by the same "cooks" who now "cook" ALL boundheat movies
NOTE the set from Last Stand :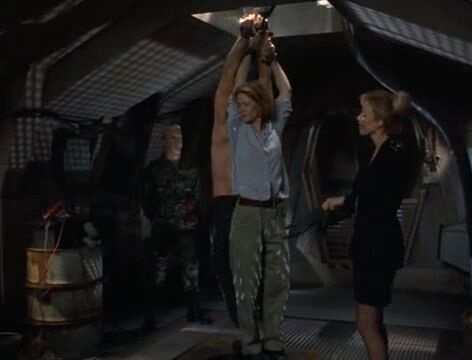 and this