Bgui wrote:
:
Will be great to see more mainstream pornstar here like Amirah Adara, Henessy, Cathy Heaven, I think pain is the most orgasmic pleasure
It may be a coincidence, but we are trying to get Amira Adara for a long time without any success. I don't know the other girls...
--------------------
Troicha
Thanks for your review about ML4.
I cannot help you decide between Zazie and Lory... I worked with Lory on the Revenge on the Laughing Girl and she was extremely easy to work with, a very co-operative but in the meantime quite a shy girl. For the first time I saw her among the audience of the Prison Punishment Show but she didn't have any role there, though she immediatly pulled the attention of the whole staff with her special cute "aura"...
---------
Jan wrote:
Did you alrady decide upon next mood shooting? (In the Name of Love3, ML5 or any other movie?)
No. Not yet. And maybe I will not decide before May or even July... I will try to collect as many "starlets" into this Mood film as possible. I would like to see Lyen, Zazie and Blue Angel if possible. But until this day, neither (!) of them gave me a positive response about appearing in a new movie. So I will see how will say yes, which other models will join, and based on the available ladies will I decide about the film itself. I think Lyen can be whatever I ask her, but Zazie is the cutie blonde and I don't want to try her in another role.... So, sorry, but at this moment I don't know yet which way to go...
Did you shoot something with Lucy?
Not yet. ahhh... if you knew what a collection of mental problems she is...
Maybe next week, maybe never...
Angel Blue, release which week?
Blue Angel's WOP27 will be definitely released next week. Please look for our newsletters or our twitter feed.
Sometimes I am lucky to let the camera just roll at the end of a scene. Here for example we see again the defiant behavior of Blue Angel which caused quite a tension in Amanda... but after their verbal fight I didn't say cut, and I saw and amazing psycho drama, when the lovely Blue Angel probably realized in herself that no matter how hard seems to be this day she cannot triumph no matter how hard she tries... and she just started to cry... for me these are priceless moments...
And this is just the conclusion of the second round (out of four)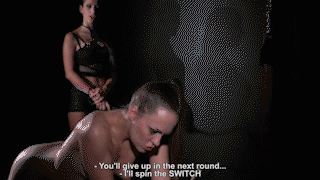 So many questions, I know.. I hope I am not annoying you. Have a nice weekend!
Jan, please remember, you never annoy me!
--------
JLive99 I think I missed you recently. Where have you been? I think I am gonna make some notes into your grade book! :)
--------
Darkseid
- I think I know what you feel about lovely Harmony Wonder...
Wish I could make a film with her... I promise I wouldn't hurt her... or... hm...
------------
LET ME ASK ONE QUESTION TOO!
- I've been thinking about whether there are any or many people who would be happy to receive something more personal from our ladies (either dominant or submissive)
Would you be more willing to purchase our films if you could get a personal message, signed photograph or even a piece of cloth worn by the girl in a particular film... Would any of you pay a little more for such things than the price of an avarage movie? (Naturally we couldn't send a gift for everybody who purchases a film)
Just asking because one of our dear customers asked for a signed foto of Amanda which request we fulfilled a few days ago... with a proof of video authentication.